4 lessons learned from Churchill Academy Careers Convention
5th February 2019 | Blog Posts
Contracts Director Rupert Perkins spent an evening with the next generation, answering questions and offering advice to the young people at Churchill Academy and Sixth Form Careers Convention. He reflects on what he learned from the experience.
The Annual Careers Convention at Churchill Academy and Sixth Form in North Somerset, where the school's students get a chance to find out about a broad range of jobs, is no small undertaking. I'd vaguely known that 50 or more different employers are typically in attendance, but I hadn't quite anticipated how busy it would be.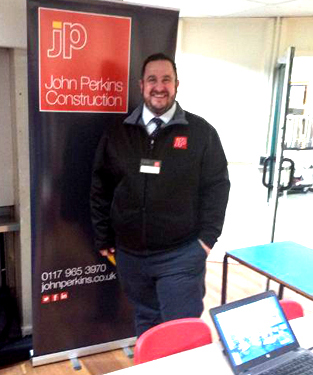 It turned out that my designated place in the hall was flanked by giants of industry, both of whom had bigger stands and flashier displays. It was enough to make an SME feel inadequate!
However, the sense of inadequacy quickly wore off. My little stand received a lot of attention – especially considering I had no bells or whistles to woo bystanders. I found the school's young people to be bright and engaged, with a large number expressing an interest in the many types of construction careers available.
The young people were there to learn from me, but of course, I ended up learning plenty from them as well. Here are my take-aways from the evening:
1. There is strong interest in all areas of construction
Construction may lack the cachet of other industries, but it still remains popular with the next generation.
I encountered a broad mix of interest, ranging from teenagers attracted to an apprenticeship in the trades, including plastering, carpentry, and electrical, to those looking at engineering careers within the construction industry. There were also some who wondered if they could use an interest in maths to kickstart a career in quantity surveying. (The answer is yes, of course!)
2. But there are still misconceptions about the industry
The prevailing image of construction for many young people is still working in a dirty, noisy, smelly atmosphere. Obviously, we in the industry know that construction has changed beyond recognition in the last 25 years, but getting this message across remains important.
Construction has not always had the best reputation, but it is now one of the most exciting, fast-moving industries in which to work. We need to make young people aware of this. Otherwise, the current skills shortages will only worsen.
3. Young people need signposting in the right direction
The young people I spoke to were not fully aware of the many different routes into construction, encompassing apprenticeships, NVQs, degrees, and more. There is a diversity of opportunity out there, with funding available from CITB to make it easier to train, but students need signposting in the right direction.
4. It's rewarding to help the next generation
The most important lesson I learned from going 'back to school' is how rewarding it is to help. We're all busy, and it's easier to say no to opportunities like the Careers Convention than it is to say yes, but it really is great to support the next generation. In fact, I believe it's the duty of our industry to give back, especially as we continue to reform the image of construction.
For this reason, I'm delighted to have been asked back by Churchill Academy and Sixth Form to help out with mock interviews and give a talk about construction to the school's sixth formers. I'm sure it will be another rewarding experience.