Celebrating our successes and planning for the future at JPC
3rd August 2023 | Blog Posts
August marks the beginning of a new financial year for John Perkins Construction, so Managing Director Rupert Perkins is reflecting on the past twelve months and looking ahead at what's to come.
For us, this year has seen a true recovery from the difficulties of the pandemic and the economic turbulence since 2020. We're delighted to have reached turnover levels in the order of £12–13m, which is back up to our business-plan projections set in 2019.
Exciting new projects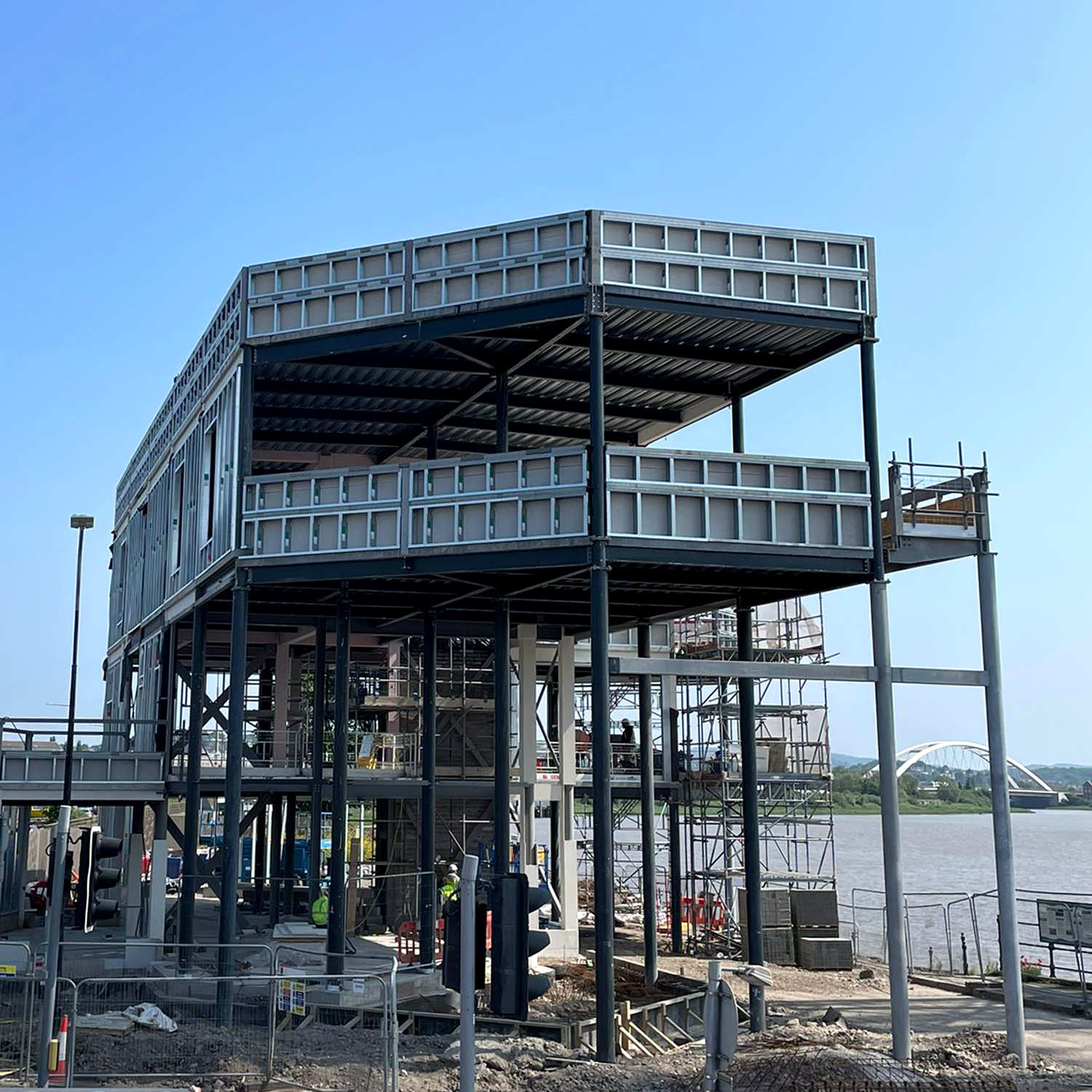 Increased turnover has come alongside exciting new projects taking shape. Two of our marquee new-build schemes – the Visitor Centre at Newport Transporter Bridge, and an apartment block in Bristol Harbourside – are up out of the ground and racing towards completion.
The construction of a much-needed two-storey extension to the Diagnostic Imaging Department at Cossham Hospital in Bristol is also well underway. And, in Weston-super-Mare, Ashcombe School is set to benefit from modern, spacious new block, built to the latest environmental standards.
This summer, we're also on site for refurbishment works at UWE Bristol and Coleg Gwent, strengthening these relationships with repeat clients.
Growing our presence in Wales
We're proud to say that we've successfully grown our presence in Wales. Patience, perseverance, investment and belief in the Welsh market has paid dividends, with more than £8m of our turnover from the last two years originating in Wales.
We're looking forward to embarking on even more exciting projects in both South Wales and South-West England in the coming year.
Community engagement
It's particularly exciting to have opportunities to engage with local people and businesses on so many of our current jobs. The Newport Transporter Bridge Visitor Centre is such an important part of Newport's heritage, and we've been welcoming in a wide range of community groups, industry groups, and school visits for tours of the site.
Working in a 'live' school environment at Ashcombe School has also given us a chance to give the next generation an introduction to the world of construction, with our recent school assembly about site safety.
New additions, new promises
As JPC continues to grow in a sustainable way, we have welcomed on board some new faces. Richard Mann (Site Manager), Adam Davidson (Quantity Surveyor), and Oli Archer (Design & Construction Manager) are all proving to be invaluable additions to the team. It's in our DNA to invest in people, and it's great to have the reason and justification to grow the team, as a result of projects we've been able to secure.
Mitch Duggan, who has worked at JPC for more than 25 years, has also taken on a significant role as the company's new Aftercare Manager. This is part of the aftercare promise we're rolling out, to make sure our clients remain satisfied in the weeks, months and even years following Practical Completion.
Planning for the future
Part of keeping the business sharp means continuing to re-evaluate how we do things. With this in mind, we have chosen to amend Commercial Director Alex Jenkins' job title.
Alex will now be known as the Commercial and Operations Director, reflecting the fact that he has overall responsibility for pre-construction and project delivery, as well as having overall financial control.
This forms part of a bigger strategic plan, in terms of how JPC will function in the next five, ten, fifteen years. Neither I, nor my colleague, Rob Yeandle (Chairman), are departing anytime soon, but we wanted to put in place a strong succession plan for when those inevitable retirements do come. Alex's fuller role is a key part of this.
In order to ensure JPC remains solid, both now and in the future, we've also been investing in coaching and training for ourselves and our staff. Reconstructing Minds' business coach Pauline Traetto has been helping us to improve communication, build teamwork, and make the company even stronger.
The coming years are likely to see economic pressures remain. Therefore, it's even more important that we continue to drive resilience, efficiencies, and improved processes, in order to stay competitive. Stay tuned for what's next for JPC – we predict it will be another year to remember.