"Let's raise awareness together": JPC signs Women in Construction pledge
13th April 2022 | News
John Perkins Construction has signed a pledge to commit to the principles of the NFB's Women in Construction Roadmap.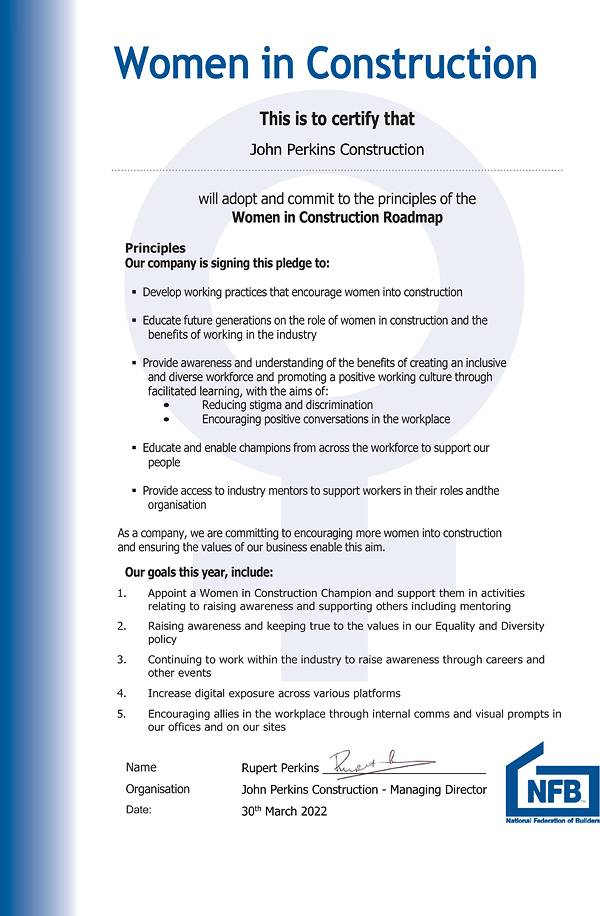 This programme addresses the barriers and challenges the sector currently has for women, who represent only 14% of people working in construction. For JPC, signing the pledge means keeping true to the values in our Equality and Diversity policy; raising awareness of the roles available to young women at careers events; and encouraging allies in the workplace.
"This is an issue I'm passionate about," comments Rupert Perkins, Managing Director of John Perkins Construction. "The construction industry has been male dominated for too long. I firmly believe that all businesses perform better when there's a balance of people and characters. The NFB Roadmap looks set to be a shot in the arm to help the industry achieve that balance."
As part of the pledge, JPC has appointed a Women in Construction Champion, Natalie Gale-Sides, to offer support in awareness-raising and mentoring.
"Things are already changing in the construction industry, but there's still more to do," comments Natalie. "A Women in Construction pledge can't be a tick-box exercise. This is something that everyone in the industry needs to engage with. It's not just a JPC thing. We're asking our subcontractors, our consultants, our associates, to help us. Let's raise awareness together."
Read more: JPC's Women in Construction pledge
Read more: "Get to know me before you judge me": Q&A with JPC's Women in Construction Champion, Natalie